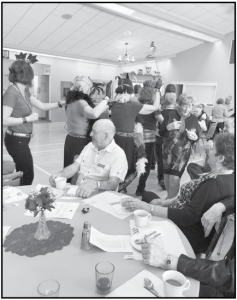 Though we didn't know it at the time, our Feb. 26 potluck lunch was the last we'll be having for the time being, thanks to COVID-19, but you could say, we went out with a bang! The event was very well attended and extra overflow place settings had to be laid out quickly to accommodate the larger than anticipated crowd. There was an abundant variety of delectable dishes to choose from and this was followed by Reba J and her Chinook Country Mardi Gras Dancers who entertained us royally with their upbeat routines. What a joyous and energetic group of ladies, who were obviously getting as much pleasure dancing for us, as we were from watching them. As a finale Reba encouraged some of us to get up and join the dancers for an albeit simple dance which she walked us through before putting it to music. It was a fun day and a happy memory to look back on.
The chairperson of the Building Committee reports that work is progressing, via phone and email, on finalizing the draft plans for the interior aspects of the renovation and addition to the Heritage Club Facility. The next step will be to have our architect create the working drawings for contractor perusal and quotes. To date, the County has approved matching grants of almost $279,000.
Early 2020 saw a welcome dramatic increase in our membership and it is hoped we'll be able to to get together again before too long to enjoy our various activities: Tuesday morning singing, Tuesday afternoon games, and the easy listening music group on Friday afternoons.
Sadly, there are no plans for for the annual Strawberry Tea in May, so good reason for an extra big celebration next year.
Stay safe and know that somewhere down the line, 'We'll Meet Again"
Contributed by Shirley Tajcnar