If you have a deck, patio, or terrace, an outdoor patio heater is the perfect accessory to add comfort and warmth to outdoor entertaining even on the chilliest of nights. Whether you are entertaining friends or just hanging out with family, outdoor patio heaters offer great benefits.
Patios are a great place for cooking, entertaining guests, and relaxing. Heating your outdoor room with an outdoor heater will extend your outdoor entertaining season and allow you to enjoy your patio or other outdoor living space for a couple of extra months or, in some cases, year round.
Outdoor heating with an outdoor patio heater offers many versatile placement options, a few different fuel options, and an array of stylish designs. Outdoor heating fuel options for outdoor patios heaters include propane, natural gas, and electricity. Outdoor heaters that use propane or electricity are available in portable and table top, standup, hanging, and ceiling or wall mount models. Natural gas outdoor heaters are a little more permanent and are available in standing, in-ground, and hanging models.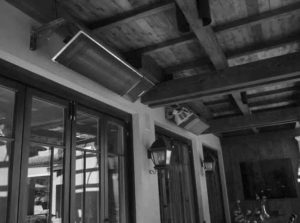 Outdoor patio heaters are pioneers in establishing safety standards. Outdoor patio heaters do not produce an open flame and the base of outdoor heaters stay cool to the touch so there is no real danger to pets and children being around them. The only part of the outdoor heating unit that will get hot is the emitter screen and the dome at the top of the patio heater since they come in direct contact with the heat source.
Outdoor patio heaters provide all of the outdoor heating benefits that you would expect and have become increasingly affordable. There are a wide range of products to fit every budget, everything from smaller fire tables to large inset hanging radiant heaters, and everything in between, and they are fairly inexpensive to operate.
We are all ready to get outside and get together again. It's been painful to not spend time with family and friends, missing those special moments together.
Your outside porch or patio is the perfect place to safely distance and still be able to spend time with family and friends, but our weather is so erratic it often leaves us out in the cold – even during spring and summer. One simple and affordable solution is an outdoor space heater – not only will this increase the square footage you can easily enjoy at home but you can be warm and cozy while enjoying your friends and family in the great outdoors!
By Carla Berezowski, Owner
www.AlbertaIndoorComfort.com