The Bav & The Tav
Bragg Creek's German Restaurant with a Rocky Mountain Flare
Charlie and his daughter Carmen came to Canada in 1989 after the Calgary Olympics. On one of their day trips, they discovered Bragg Creek and fell in love with the area. Charlie is a trained Master Chef, who also earned degrees in business and as a dietitian/ nutritionist, was then looking for a restaurant to call his own. In 1991 he secured The Bavarian Inn through a lease. He met Pam a year later and they took full ownership of it in 2003. The couple celebrated their acquisition with a complete renovation of the space, a new menu and an extensive wine list. At the time, Bavarian Inn, and the now-defunct Steak Pit, were the only two fine dining restaurants in Bragg Creek. Still, Charlie saw great potential for the hamlet as a destination for Calgarians seeking a change of scenery and refined culinary experiences.
Keenly aware that the restaurant's success would ultimately be associated with that of the local businesses, Charlie became a passionate promoter of Bragg Creek as a choice destination for all who seek the great outdoors and quality food. Their restaurant soon became regularly mentioned in Wine Spectator Magazine, Air Canada and West Jet magazine. These accolades were supplemented in 2010 when Charlie was nominated one of the top 10 chefs in the Calgary/ Canmore/ Banff area and competed in the Gold Medal Plates competition.
Charlie and Pam eventually sold their restaurant to take a well- deserved break from the hustle and bustle, only to regain ownership of it in 2019. In March of 2020, Bav Tav opens its doors again, this time with a focus on two separate clienteles. The Tav is part of the restaurant that evokes the tavern-style service. Patrons in hiking boots and outdoor wear are welcome to quench their thirst and fill up on succulent light fares such as a Wapiti burger and a pint of local Fahr beer.
The Bav is the restaurant section that caters to patrons in search of a more intimate and refined dining experience. The menu focuses on Rocky Mountain dining experiences blending traditional German and contemporary cuisines, using the best local food ingredients they can find. "The goal," says Charlie, "is to create a cuisine that celebrates what we do best in Western Canada, including grains, venison, beef, fruits and vegetables, craft beer and wines. The menu is seasonal in that it offers dishes that use fruits and vegetables that are always fresh. Oh! And we make our own bread too."
The kitchen is under the leadership of a local young up-and-coming new chef Sammy Mehler-Allaby. She has earned her red seal accreditation and worked in trendy restaurants such as Calgary's Model Milk and Barcelona Tavern. Expect to see exciting new fare on the menu such as warm squash salad and ever-changing dishes with wild game, fish and a little more emphasis on vegetarian offerings.
Pam is a passionate wine aficionado responsible for the wine list and bar operations. Her focus is firmly on quality local labels, especially British Columbia wines and local craft beers. Her current goal is to curate the wine list down to a limited selection of labels that pair especially well with the menu. Clients can bring their own wines and have them served for a corkage fee but, as she said, "Our wines are sold with a minimal markup. Considering the quality and pairing efforts involved, the dining experience may be better-suited opening one of our wines."
Calgary's drive to Bragg Creek and along White Avenue gives you the impression that you are heading for the forest. Away from the commercial core, the restaurant is nestled in a large, quiet, wooded lot with a short walk to the Elbow River. The unassuming building features a post and beam entrance with an expansive deck popular in the summer. Inside, the decor remains simple with rustic wood finishing details. A red brick foyer with its dancing flame is a welcomes sight, especially in winter when you seek refuge from the snow and chilly wind.
COVID-19 has been a great disruptor for the restaurant scene. Bav Tav is currently closed, but food can be ordered for take-out and menus are created for special occasions such as this month's Valentine's dinner for two.
Bav Tav also has a unique new service called "The Market Place." You can now buy fine restaurant-quality food ready to cook in the comfort of your home. Peruse the Market Place menu on Bav Tav's website, order and pick it up.
Charlie and Pam's commitment to the local food scene and to Bragg Creek is undeniable. They have time and again given back to the community, and they continue to do so. In return, the community has rewarded them with ongoing patronage to a restaurant they obviously love. To find out more about Bav Tav visit www.bavtav.com.
Happy New Year!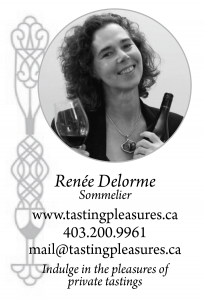 Invitation to food artisans, growers, producers and restaurateurs:
Do you produce, make or serve quality local food that best exemplifies our terroir? Interested in being profiled? Please email me at mail@tastingpleasures.ca
---