Why You Want To Have Breakfast At The Coyote Moon Cantina & Espresso Bar
In 2001 Abraham and Hanna landed in Calgary, on one-way tickets for them and their ageing parents. They knew little about the city, except that houses were not as expensive as in Vancouver. They also reasoned that if others could live in -30C weather, they could do the same. They were right.
Back in Korea, Hanna Ma, a second language teacher, met Canadian expats who told her about our northern land. She soon dreamed of moving to big sky country and seeking opportunities for herself and her husband.
Abraham, a soft-spoken culinary Chef with a specialty in Swiss hotel management, went along with his wife's dream. The first few years were all hard work, though. First as a Chef for the Palliser Hotel, then the Sheraton, and as an Executive Chef for Smuggler's Inn. The long hours eventually grew weary on him, and he started to yearn for a better work-life balance. One day, as they were exploring Calgary's surrounding small towns, they discovered Turner Valley. Its western flair and proximity to the Foothills charmed them. And as luck had it, the Coyote Moon Cantina & Espresso Bar was for sale.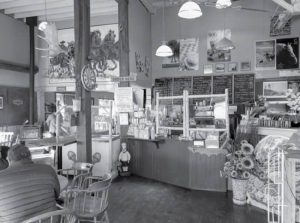 Today, Coyote Moon is a well-known landmark in Turner Valley. The building in 1940 was initially built as a fire station — interestingly, it partially burned down a few years later. Once repaired, the building became the Town Hall, then an office building, and eventually a restaurant. Abraham and Hanna immediately fell in love with the Café and its history. They took it and kept it as-is to this day.
You can't miss Coyote Moon on Main Street. It has a quintessential southwestern flair with its big, bright ice cream cone signs, log fences sealing the porch, and picnic tables luring you in. Inside, a large L-shaped room greets you with its rustic high ceiling of whitewashed rough-cut planks reminiscent of its firehall heritage and an eclectic collection of wooden tables and chairs. Once you settle down, the busy decor gradually comes into focus. A massive two-man hand saw adorns a retaining post beam. A gigantic painting of horses pulling a wagon hangs high above a wall. Moose antlers, the taxidermy of a coyote, and countless other objects keep you entertained, complete with a wood stove and a pile of firewood that heats the restaurant.
The menu focuses on breakfast and lunches. Simple, wholesome, delicious food met to satisfy sturdy appetites. They also offer various coffee styles using only high-quality beans: Coffee Concept and Caffé Monté. Together, the building, the menu, and the coffees are why the Coyote Moon is a favourite "hang out" for locals. They love to come in and catch up on the latest news, lingering in the comfort of a restaurant that feels like home. While we were there enjoying our breakfast, the rambunctious mayor of Turner Valley came in to buy his coffee. He left the premises talking over the tables from the front entrance, wishing Hanna a good day and leaving many with a smile.
Hanna is responsible for the front house. She welcomes and serves clients while Abraham prepares the food – classic bacon and eggs, egg benedicts, omelets, earthy sandwiches and burgers. When they are busy, their two daughters, now in their twenties, help out. Unfortunately though, it's been almost a year since the couple felt the need for extra help, thanks to the pandemic and all the associated restrictions. The couple is looking forward to resuming regular business just as it was, with a packed house on weekends and steady traffic during the week.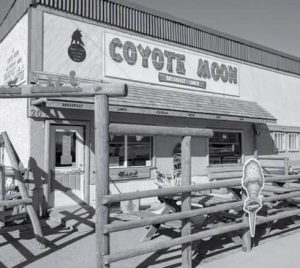 The drive to Turner Valley is pleasant any time of the year. It is a beautiful country drive looking at the long vista of the Foothills with ever-changing colours and shapes. Although Hanna and Abraham left the decor of their cafe untouched, they did add two new elements. A couple of shelves to display artworks and crafts produced by local artists and available for purchase. They also hung one inconspicuous eight inches square frame. It is a gift from a friend – a Korean Word Art – a simple, delicate, elegant piece of art that I invite you to seek out when you visit the restaurant.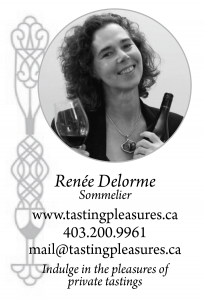 Coyote Moon Cantina & Espresso Bar
202 Main St NW, Turner Valley
Tel. 403.933.3363
---