Cheech in the Creek
Our previous edition began the story of the accomplished ceramist Ed Drahanchuk, his artist wife Ethel, and their award-winning studio/home built in Bragg Creek in 1968.
The best-known folklore of the Drahanchuk era, however, had to do with Richard Marin, better known as Cheech, of Cheech and Chong fame. Their comedy "Up in Smoke" became a huge hit in 1978, and Marin went on to star in many other movie and television productions. Recent work includes voice-overs for animated movies, including Banzai, the hyena in The Lion King, and Ramone in the Cars franchise.
But before all that — in 1968, in Bragg Creek — Ethel Drahanchuk remembered how "Rich" just showed up one day at their door asking for a job.
Rich explained the circumstances in his memoir: "In my last semester in school (San Fernando Valley State College), I took a pottery class that totally changed my life. It woke my dormant Mexican handcrafting genes. The spirit of generations of long gone Mexican potters pushed me to do what I was born to do." The year being 1968, he also admitted being active in the anti-Vietnam War draft. After turning in his draft card (autographed by Muhammad Ali), with $80 in his pocket, he bought a bus ticket to Calgary. (What he didn't know then, was that it was where Tommy Chong had spent his younger years.) Rich's former professor had provided a contact, Jerry Kaufman in Priddis, who needed help building a studio in an old chicken coop.
After the studio was finished, Jerry told him about a famous local potter who lived in Bragg Creek. Rich walked, hitchhiked, and walked some more before arriving at the Drahanchuks, where he found Ed and Ethel working on a tile mural. Since Rich's Chicano background was sometimes mistaken for Indigenous and to avoid (in his words) another "hey Chief" situation, he started talking as fast as he could. And went on and on, and on, until Ed said "you're hired" to get him to stop talking. Rich started work that day and claimed, "And so would start the purest, most at-one-with-nature time of my entire life."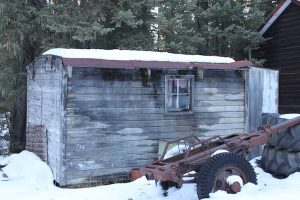 The bigger problem was finding a place to live in Bragg. Mary Elsdon of the Bragg Creek Trading Post also rented cabins, and her records from August 13, 1968 note: "…after cleaning cabin G.P., a Mexican came very late." In his book Rich explains the cabin was so small that he could stand in the middle and touch everything in the room. He was taught to make kindling and given a fifteen-gallon drum to collect his daily water requirements. To collect water more quickly, he had the bright idea to lean off the temporary pedestrian bridge over the Elbow (constructed annually by Jack Elsdon). While filling the drum, he was pulled off the bridge into the "freezing river," but fortunately managed to swim to shore downstream.
Rich later befriended Georgie Dunn, a lightweight boxing champion of Canada and later the equipment manager for the Calgary Stampeders. Georgie gave Rich keys to his White Avenue cabin, an address to send the rent money to, and wished him luck. Rich soon found out what "unwinterized" meant!
The relationship with the Drahanchuks continued successfully, until Ed had a serious hunting incident that meant no more work for Rich. Ethel mused, "Funny thing the way things go … if Rich didn't have to leave Bragg Creek, the timing may never have led to meeting Tommy Chong!"
The Bragg Creek legend has Cheech working for the Bar-B-Q Steak Pit. He did do some bartending there, but it was music that brought him into contact with Steak Pit owner Gordie Shoults and the "trad- jazz" musicians surrounding him. (What Rich also didn't know then was that Gordie had been a contemporary of Chong's in the Calgary music scene.) Singing every Jonny Mathis song he knew, Rich was invited to join a gig in Banff. He was also asked to go to Hawaii, but on the bus ride up to Sunshine Village, he concocted different credentials yet again and signed on there as grill cook.
Rich would finally meet Tommy Chong, not in Alberta, but when hired to write for Chong's improvisational hippy burlesque- style theatre company in a Vancouver nightclub named Shanghai Junk. As the act evolved, the comedy bits soon eclipsed the music for the audiences. Asked if he had a nickname, Rich told Chong, "From when I was born, Chicharron … it's a pork rind … all curled up and small, and it quickly got shortened to Cheech."
Chong's response? "Cheech and Chong, Cheech and Chong… Man, we're gonna be big."
Michele McDonald
for the Bragg Creek Historical Society

Sources: Ethel Drahanchuk Interview, August 2018; Gordon Shoults Interview, October 2018; Mary Elsdon Cabin Records, 1968; Calgary Herald Obituary, George Dunn, 2011; Marin, Cheech, CHEECH Is Not My Real Name, New York, Grand Central