Chapter 114
Much of the content of these articles over the past 10 years has been spontaneous reviews of current events. My travels prompted a staggering sense of awe and it's easy to translate this into an outpouring of descriptive writing.
Another aspect, in particular the collaboration with Fantuzzi, was the blossoming of my poetic murmurings. At our more intimate gatherings, often in holistic settings, we would seamlessly pass back and forth between us, leading the group in movement or meditation, in music and exploration. As our melding deepened, Fantuzzi would randomly look at me and invite something to happen, and happen it did. I began to spontaneously produce poetry and insights, most of which, realized in the moment, are lost in the ether. When I begin to speak in this way I generally have no memory of what I say as soon as it is over. I just close my eyes for a moment, tap into the energetics of the gathered people and allow what comes up to translate into a sort of free poetry.
Writing this in Alberta now sounds a bit daft even to me, but at the right time, in the right place, it falls into place with the beauty and synchronicity of falling in love.
Of course, I've been scribbling for decades, I launched a magazine at my school/ college and have been doodling with the written word since I was wee. Speaking in front of large groups is less intimidating now, but it wasn't always thus.
I found myself, on one occasion, bubbling with a sort of potent energy, restless for an opportunity. I told Fantuzzi before a certain event (the Holy Man Jam with a collection of fabulous Indian spiritual musicians), that if he felt the call to ask for something, I was ready. At a mid-point in a pretty powerful evening of music with a substantial sized audience, he turned to me with eyebrows raised & I nodded yes.
Taking a microphone, I looked out over the gathered faces and asked if anyone would be willing to help me. I saw confusion, embarrassment, shyness – the usual response when an audience is suddenly transformed into potential actors. Don't worry, I won't ask you to do anything dangerous, just come up here and let me touch you I assured them. Nervous laughter at that last. Confusion remained, but a few volunteers made tentative moves and one lady peeled herself away from the safety of the crowd to stand before me. I smiled at her and reached out to gently touch her shoulder. Then I closed my eyes and let it wash through me.
There followed several minutes of hair- raising speech, my skin tingling, the hairs on my neck and arms standing to attention… I see you. I see who you are. You are… a litany of inner thoughts, emotions, unseen aspirations, the ringing cadence of true feelings and the endless unexpressed desires. I don't know exactly what came out of me, but when I stopped there was an echoing hum in the air and a subtle silence suspended the group for 20 or 30 seconds before applause broke through. Both of us were crying, maybe others too.
The following day, at the festival just down the road, a lady who had also been in the audience that night tracked me down and grasped me by the arm; "Please will you read me? Will you give me a poem too?" I don't know if I can I replied, I'm not sure if this is the right place. It was heaving with noise and brilliant sunshine and people everywhere, music playing, drums beating, such a different atmosphere to the spirit-filled ambience of the previous night. She pleaded for something so we scouted around, found a thick hedgerow and satin the grass behind it.
Taking a few deep breaths and looking into this woman's eyes, who so obviously needed something, I took her hands in mine, closed my eyes and let myself sink into her. The words flowed again and yet again, that sensation of the supernatural crept across my flesh, the feelings of being simultaneously inside and outside another overtook me. When I came back to myself, I found the same kind of reaction before me. This woman was glowing with a new light, she hugged me with tears in her eyes, thanked me for my words and disappeared into the ongoing dance of the festival.
Another time, perfectly alone. I lay awake sweating gently in the night's heat, turning restlessly as Fantuzzi slept deeply beside me. Eventually, frustrated at my lack of sleep, around 3 or 4am, I wrapped a sarong about me and tiptoed out the door and down the steps to the beach. Curling my toes through the sand, feeling the sharp-edged stones and worn shells that were morphing over lifetimes into new sand, I felt the soft glow of the moon on my back and drank in her reflection across the water. In glorious isolation I walked into the night's ocean, warm on my skin, and swam silently out.
Still shallow enough to stand, dropping feet to the sea's floor, I watched the bioluminescence glow blue-green between my toes, as I swept my arms back and forth just below the surface, the blue- green rippled and sparkled between my fingers. Magic.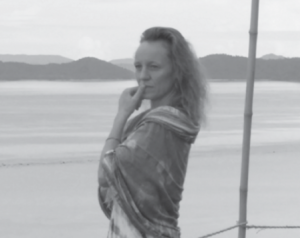 A week or so later, with a small group of people in a stunningly lush health resort on another island, we gave a concert. Just Fantuzzi & I with less than a dozen in attendance. This time Fantuzzi asked and I delivered… a powerful poem that recalled that solitary night adventure with the moon and the ocean. I loved that poem and was just a little saddened that as usual, I could not recollect what came from my lips. But! The talented organizer had been videoing the whole thing and later posted the poem online on YouTube. What a blessing. I shared this with a few people and was deeply gratified to have it aired on CKUA, Bob Chelmick's Road Home.
These small moments make such huge impressions. I am grateful for them.
With gratitude and love,
Kat Dancer
bodymudra@gmail.com
www.kat-dancer.com
415.525.2630, ph/txt/wtsp