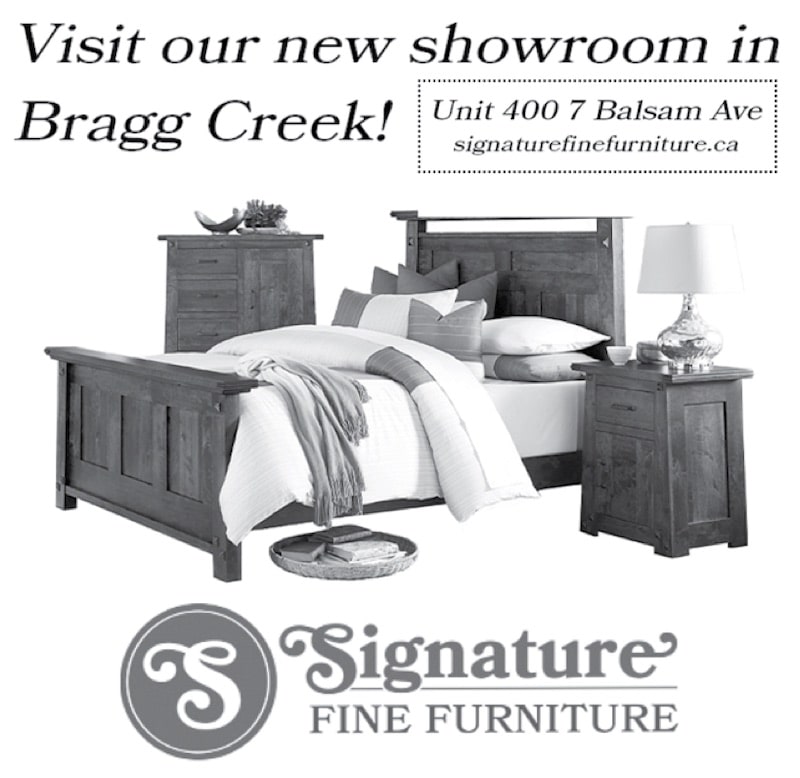 "At Signature Fine Furniture, our mission is to provide heirloom- quality solid wood that can and will be lovingly handed down through a family's generations, collecting memories and stories along the way."
My name is Ofelia Unrau. I have lived in Bragg Creek for just over two years with my four kids. We have enjoyed making this beautiful community our home and have made many great friends and enjoyed meeting our neighbours.
I'm excited to announce the arrival of Signature Fine Furniture right here in Bragg Creek. Signature Fine Furniture was originally opened in Calgary in 2010 with a showroom in the Deerfoot- Glenmore industrial shopping area. The original founder had come from Winnipeg, where he ran a store of Amish-made furniture, and realized that heirloom-quality wood furniture should certainly be sought after in a premium market such as Calgary. At the time, my brother, Jerome Bartsch, one of our current owners, was working at Signature, helping set up an online shopping experience. After being part Signature for many years, Jerome was inspired by the quality of the products, and he and my father Jake decided to take on the opportunity to buy and build the store in 2019. We dreamt of opening a second location in Bragg. About a year later we saw an opportunity come up and took it! We have been busy preparing the location in Bragg and our plan is to open in the beginning of November.
At Signature Fine Furniture you will find solid wood tables, chairs, cabinets, kitchen islands, occasional tables, bookcases, desks, bedroom suites, bathroom vanities, couches/recliners, rocking chairs, and seating benches. Over the years we have built a strong relationship with the woodworkers in the Amish communities who also share our interest in ensuring total customer satisfaction. This beautifully handcrafted furniture is bound to amaze anyone who has a deep appreciation for wood.
Our furniture is unique for a number of reasons. Most of our sales are custom orders designed to fit perfectly into the home of the buyer. The sales staff will guide you through the process of what wood to select. You can choose from Cherry, Oak, Maple, Hickory, Walnut and Quarter Sawn White Oak. If a table or bedroom furniture is mainly decorative, cherry or walnut can be good choices. If it will be in heavier use, a distressed or heavier grained wood will wear better. Our store is known for giving exceptionally good attention and customer service from order through to the delivery. We treat everyone as a potential lifelong customer and fan of the store. We include delivery with "white gloves" and ensure no damage to the pieces in transit.
I am so excited to open doors to this wonderful community that I call home. We are located between The Leather Shop and Rockies Tavern. Many of you will recognize this place as where Durango Trail used to be. Come in and say Hi!