On Friday, April 16, 2021, the Bragg Creek Performing Arts proudly host their 40th anniversary "Couch Fest" celebration, an online event featuring artists from the past four decades.
In 1981, the Bragg Creek Performing Arts was launched to give artists a stage to share their work with the community. "It's been and an honor to have hosted many amazing and talented performers, and worked with such wonderful community volunteers. We need the arts now, more than ever," Clint Docken, BCPA spokesperson, said. "I am proud that the BCPA is entering this virtual arena, ensuring that we remain connected to one another and energized by the arts."
The Couch Fest will be a celebration of talent. John Wort Hannam, folk music musician, is known for his story telling through music. His themes include life in western Canada, and the human experience as seen through the eyes of working folk. Feathers in Wort Hannam's cap include the 2010 Canadian Folk Music Award and a Juno nomination.
It will be hard to sit still when listening to Oscar Lopez. He is a world-class guitarist who has dazzled the ears and touched the hearts of many with his stunning technique. Lopez was named Instrumentalist of the Year by the Prairie Music Awards, has Juno wins and the Socan Hagood Hardy Jazz/Instrumental Music Award.
As an ardent fan once stated, "If the Eagles and the Trio (Dolly Parton, Linda Ronstadt and Emmylou Harris) were a family, then surely their children would be The Travelling Mabels". It's the harmony vocals that make this delightful country- folk group an exceptional experience.
Colin Linden is Canada's musical Renaissance man. He has been playing country blues, '20s style acoustic blues, since he was a kid and met [electric blues pioneer] Howlin' Wolf. Linden captures the spirit of his early blues heroes, but his approach transcends mimicry.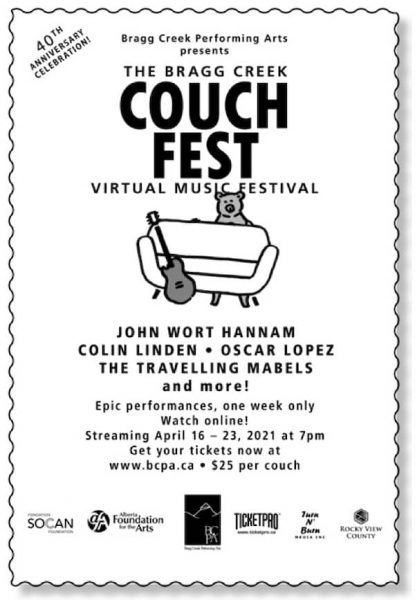 "Celebrate with us at this virtual event. You'll support the BCPA and ensure performing artists keep sharing their talent and inspiration with the world," Docken said.
"To make for a truly one-of-a-kind evening – wherever you are – why not order-in from your favorite local restaurants?"
resident Ziggy Stuart said. "This would make for a special night at home, with the feeling of a great night out."
Our Couch Fest will have you and your peeps sitting on the edge of your seat. It starts at 7pm on Friday April 16. Each BCPA ticket includes unlimited on- demand access to the show for 7 days following the event. To purchase tickets – $25 per couch – visit www.bcpa.ca